Chocolate, the food of love, contains ingredients that make you feel happy and relaxed. It's no wonder that it's often used to help get you and your lover in the mood. From rich chocolate truffles, to chocolate covered strawberries, chocolate embodies sensualism. Make your Valentine's Day night a little sweeter this year with this recipe for homemade chocolate body paint. Some say that chocolate is better than sex... this recipe lets you have both!
Chocolate Body Paint
Servings: 2
Ingredients:
1/3 cup granulated sugar
1 pinch kosher salt
3 tbsp. water
2 tbsp. butter
1/4 c. Cocoa Powder
1/2 tsp. Vanilla Extract
1/2 tsp. Kahlua
Raspberry (or other) flavoring, to taste
Soft paintbrushes
Instructions: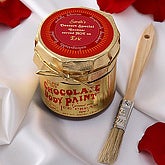 Over medium heat, mix sugar, salt, and water in a small saucepan.
Wait until sugar is completely dissolved, then remove from heat.
Add butter and whisk until thoroughly mixed.
Add cocoa powder, vanilla extract, Kahlua, and raspberry flavoring and whisk until thoroughly mixed.
Put into a dish and wait for it to cool slightly
Use your brushes and imagination and paint away!
You can use a small heating pad to keep the chocolate body paint warm and pliable while painting. If it starts to solidify, warm it in the microwave for a few seconds.
You can also buy gourmet chocolate body paint in gorgeous personalized jars. Made with French chocolate -- an aphrodisiac! -- it comes in a customizable container with easy-to-follow directions: Heat to 98.6 degrees, "apply liberally," and let your appetite run free! With YOU as the dessert special, you're sure to heat up the bedroom on Valentine's night.